Toil was the order of the day for India on majority of Day One of the second Test against South Africa at Centurion. A part of it was self-inflicted courtesy missed opportunities and baffling decision-making, the other part was brilliant batsmanship.
Foil was the order for South Africa in the last nine overs courtesy needless panic (I will refrain from using the dreaded c word).
South Africa ruled for 81 overs, yet stuttered to 269 for 6 at stumps. Suvajit Mustafi analyses the plays of the day.
Where is the intent?
You cannot succumb to the opinions of a billion. You don't play the game to make everyone happy. So when Virat Kohli hit out at critics on the eve of the second Test, he made it clear that the stubbornness was going nowhere. Reports had begun to surface that Bhuvneshwar Kumar would make way for Ishant Sharma.
They had said the world would end on December 21, 2012. How many believed? Reports, rumours are all part of Indian cricket.
Bhuvi claimed 6 wickets at Cape Town. He wasn't just India's highest wicket-taker but also consumed the most balls as a batsman. Bhuvi played 127 balls, the second-most in the Test (after AB de Villiers' 134), on a track where spending time was difficult.
Kohli, the decision-maker, is a firm believer of form triumphing over reputation thus it is understandable why Rohit Sharma continues to be preferred over India's best overseas batter Ajinkya Rahane.
The absence of linearity in thought fails the think tank's idea of this practice. Hence Indian cricket's biggest stakeholders, the fans, are right to question the logic behind the absence of Rahane and Bhuvi in Centurion.
Kohli was pilloried on social media.
After the Centurion defeat Kohli spoke about the intent. The intent he spoke of was not blocking one end but scoring runs, looking to come hard at the bowler.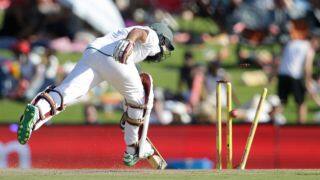 With Murali Vijay and Cheteshwar Pujara in the top three, India have two batters whose strike-rate in South Africa is in the late 30s. Shikhar Dhawan definitely showed more intent than Vijay at Newlands. Rahane may not be a Hardik Pandya or even Kohli but he definitely shows more intent than a Pujara or Vijay, and looks far more comfortable in white clothes than Rohit.
It would have been harsh to drop the in-form Rohit for failing in one Test and to believe in the theory itself is foolish considering Ravi Shastri's romance in the player's ability. Australia 2014-15, Sri Lanka 2015, and West Indies 2016, occasions where others were moved around in the order to accommodate Rohit. Rings a bell?
No Dhawan, no Rahane and no in-form Bhuvi. I repeat, Vijay and Pujara remain in the top three. What was the intent talk, Mr Kohli? The idea of intent to win gets diluted with such decision-making.
Isn't Vernon Philander similar bowler to Bhuvi? He too relies on movement. Luckily, South Africa didn't apply the same logic. By the way, Philander averages 16.95 from 5 Tests at Centurion.
The missed opportunities
South Africa were 12 for 0 after 5 overs at Centurion. The score read 12 for 3 at that stage in Cape Town. There is no Bhuvi, the man who triggered the collapse.
South Africa is a tough place to play as a visitor. The hosts are a force at home and they make you pay for every error. India have paid hard in their past six tours. Have they learned?
Mohammed Shami dropped Dean Elgar at Newlands in the second innings. Elgar danced to the tunes of Jasprit Bumrah early on at Centurion. There came the short ball, Elgar pulled, miscued and Vijay waited at the long-leg for such opportunities. He misjudged it terribly and was yards inside the fence.
He then failed to latch onto a half-chance at silly point when Hashim Amla was on 0.It would be harsh to blame him for that, two balls prior he had taken a very good reaction catch at the same position to send back Elgar.
Amla had moved to 30. He couldn't control the leg glance off Ishant. Parthiv Patel, filling in for the injured (and criticised) Wriddhiman  Saha, dived towards left, got his gloves but spilled it. It wasn't an easy chance but Saha makes these grabs look like cakewalks. Perhaps, we have become too used to Saha's brilliance to understand his importance. Amla made India pay.
The oohs and aahs around the close in continued as Ravichandran Ashwin generated turn and bounce.
South Africa could have been seven down but for another misjudged attempt. The deep midwicket fielder was stationed. Ashwin, with the new ball, baited Keshav Maharaj for a slog sweep and the mission was successful but the fielder was around 15 yards inside and terribly misjudged it.
Converting the half chances
Ashwin claimed 3 wickets. He bowled one-third of India's overs. A sharp bowler, he used his height to good advantage to derive bounce. However, the collapse was triggered by Pandya's brilliance.
Sadly the stats do not note such displays. Amla's run out against the run of play in the 81st over marked the beginning of the momentum change. Faf du Plessis called for a quick single as he sprinted towards the danger end. Amla was a bit hesitant but responded to his skipper. Pandya was quick to the ball and realising Amla was late to start off, rocketed the throw at non-strikers stumps. Amla walked back for 82, living up to his Centurion batting average.
With these sort of brilliances and conversion of half or quarter chances like this one helps a side justify the No.1 tag.
Ishant shuts critics
Dale Steyn has played 86 Tests. Ishant is playing his 80. I like reminding this to all. He bowled on right channels and the cherry whizzed past the edges many times. Parthiv dropped a chance. That has been Ishant's story for over a decade now.
He shook hands with luck when de Villiers, trying to cut a widish delivery chopped onto the stumps. Ishant resorted to cross seam, and the move paid dividends instantly. De Villiers was deceived by the pace.
South Africa being South Africa
If you dominate eight-ninth of a day and still lose momentum then you ought to be South Africa. They don't fail to surprise with such brain-fade moments.
Amla's dismissal saw Kohli not opt for the new ball as next batsman Quinton de Kock opens in limited-overs and is accustomed to the hard ball. Instead he continued with Ashwin, attacking the left-hander with off-spin. Strategically, a good move and QDK made it look like a brilliant one by playing a nothing stroke with no feet movement and edging the first ball to the Indian captain at slips.
The following over, Philander lobbed the ball, managing to land it in middle of three fielders but decided to stroll on the pitch, ball-watching and not responding to his skipper's 'NOs'. Another run-out. Maybe Faf needs to learn yelling and make his team learn not to panic.
South Africa, from 246 for 3, were 251 for 6. A tale, quite South Africa like.
New ball oddity
Two balls into the 87th over that was being bowled by Bumrah, Kohli opted for new ball. Ashwin bowled the next one. Ishant replaced Bumrah from the other end with the latter returning to bowl the final over. The ball will remain new and India can attack tail-enders. This logic made sense.
Before that, there was elegance
The pillars for South Africa were Aiden Markram and Amla. Both men deserved hundreds. The hallmark of their batting was elegant stroke plays and remaining positive. Both men drove and flicked with authority and when Indian bowlers in quest of extra bounce, dropped it short, they launched the cuts. Nothing brute, all art work. We are used to Amla doing it, time and again. Watch out for Markram. We will hear more of him in times to come.
Suvajit Mustafi consumes cricket for lunch, fiction for dinner and munches numerous other snacks throughout the day. Yes, a jack of several trades, all Suvajit dreamt of was being India's World Cup winning skipper but ended up being a sports writer, author, screenwriter, director, copywriter, graphic designer, sports marketer, strategist, entrepreneur, philosopher and traveller. Donning so many hats, it's cricket which gives him the ultimate high and where he finds solace. He can be followed at @RibsGully [Twitter] and rivu7 [Facebook].